Bank aggregation: centralized management of all your bank accounts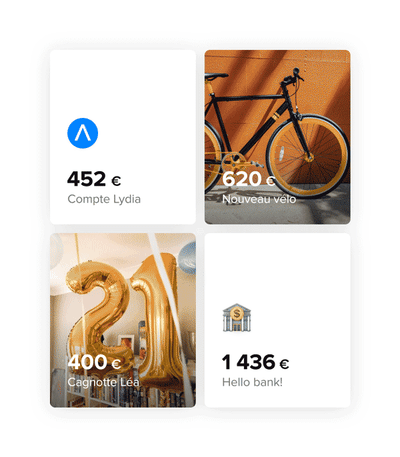 With Lydia, users can add their bank accounts from the homepage of the app to:
Transfer your money from Lydia to your bank account ;
Make transfers from a bank account to an account from Lydia;
See your bank account balance in-app, alongside all your other accounts and money pots;
Take advantage of our cashback offers;
See all your payments in a single history tab;
Get relevant alerts to quickly get an overview of your accounts' status - Lydia and external - at any given time (notifications when your balance is too low, or for each transaction made);
Find all your beneficiaries in one place, and add more easily.
For those who like to control everything from within the Lydia app, it's even possible to schedule "Recurring Transactions" between your different accounts (Lydia and bank accounts). To find out more, read the article "
Programming a Recurring Transaction
".
Linking your bank 🏦
Account aggregation means taking advantage of the Lydia app's user experience to continue using external bank accounts. It's also very straightforward.
To connect your bank accounts to Lydia, just:
Go to the "Accounts" screen;
Click on the + sign at the top right of the screen and then on "Link my bank
Select your bank from the list;
Connect your account by entering your usual bank identifiers, just like when you connect to your banking application or your personal space on your bank's website.
Additional security will be required, depending on the bank. For example, the user may be asked to authenticate himself on his banking app to confirm that he is the originator of an online payment. This is called strong authentication.
Also, account synchronization may take more or less a bit of time (a few minutes up to 2 hours) depending on the aggregated bank since not all information is immediately available (notably transactions and beneficiaries recovery).
How it works / Common questions ⚙️
Bank accounts balance update
The user's account balances are updated several times a day, by Lydia, Budget Insight and Tink. To find out the exact time of the last update, simply open the detailed view of an account.
Thus, all your transactions on your Lydia accounts and sub-accounts as well as those of your aggregated banks appear in the general details of your debits and credits. In addition, Lydia clearly identifies the most important information to display in the transaction details. No more long-winded and incomprehensible descriptions!
Desynchronization of bank accounts connection
For security reasons, your bank account's connection with the Lydia app must be renewed every 90 days. Therefore, once the term has expired, Lydia warns the user that their account is no longer synchronized and that a new connection is required. Don't panic if your balance or transactions are suddenly not updated. An orange highlighted "To connect" warning will serve as an indicator for the user to check the connection status of their bank accounts.
To reactivate it, the user must :
Open the detailed view of your account;
Click on "Reconnect my account";
Enter your bank login credentials;
Enter the password to connect to your bank account and validate.
Once the updated credentials have been entered, the updated balances will be displayed on the Lydia app.
Add an account
If the user deletes a registered account, Lydia will immediately delete the registered credentials. We will not be able to restore the account, even if the user requests it. The bank will have to be added again.
Rest assured, as we said above, Lydia is doing everything possible to simplify this connection process. We are working towards simpler login methods. We do understand how frustrating it is to find your bank details in your personal records. That's why you'll soon be able to stay on the app through an integrated web view or, even better, switch to your personal banking platform from the app, with smooth and automatic redirects. No need to leave your app and open your messages to find a code received by SMS to save later. So, if your credentials are already registered there, a simple biometric recognition will be enough to connect you to your bank before being redirected to our app.
Lydia is committed to making your banking and personal data more secure and easier to manage. Aggregating your bank accounts and managing everything from the same platform has never been easier.
Deleting a bank account
From the detailed view of an account, click on "Delete this account" at the bottom of the screen. The data will then be deleted.
The user will be able to enter their credentials again by selecting "Add a bank account" in the "My money" tab or by clicking on the "+" button.
Compatible banks 😎
Viewing bank balances in Lydia
The list of Lydia-compatible banks is available in the "Accounts" tab, after clicking on the "+" sign and "Link my bank".
Initiating transfers
To make a transfer from a Lydia account to an external bank account, the user will have to:
Select "Pay" on the homepage
Add a new beneficiary if this is not yet the case
Indicate the amount to be transferred (always better with a description)
Confirm your transfer
Our partners 👍
Lydia has chosen to partner with leading open banking fintechs Budget Insight and Tink to enhance its financial services offerings, accelerate its development on a European scale and secure connections with banks.
The objectives of these collaborations are clear: to improve the way users connect their bank accounts to Lydia, manage transfer beneficiaries (retrieving beneficiaries from their banks, adding new beneficiaries from Lydia), and initiate payments, all without leaving the app.
Budget Insight:
Over 350 financial institutions supported in France and abroad
A secure, simplified and operational connection in 30 seconds
A French company and supervised by the ACPR, part of the Banque de France
Founded in Stockholm, Tink aggregates data through real-time connections to European banks and financial institutions, with over 300 banks and fintechs in France and abroad. Lydia allows its users to benefit from:
The most reliable and extensive connections in Europe
Proven solutions from recognized payment players
Still hesitating?
In clear terms, our collaboration with Budget Insight and Tink allows Lydia to offer users adapted services to better manage their money such as:
initiating payments easily from the Lydia app;
make its raw financial data (e.g. transaction object) accessible and more understandable;
provide better services based on this data such as expenditure categorization.
In addition, the analysis of the user's spending from their aggregated accounts, with their consent, allows Lydia to help them better manage their finances with, for example, a personalized guide to easily save money and achieve all their financial goals.
---