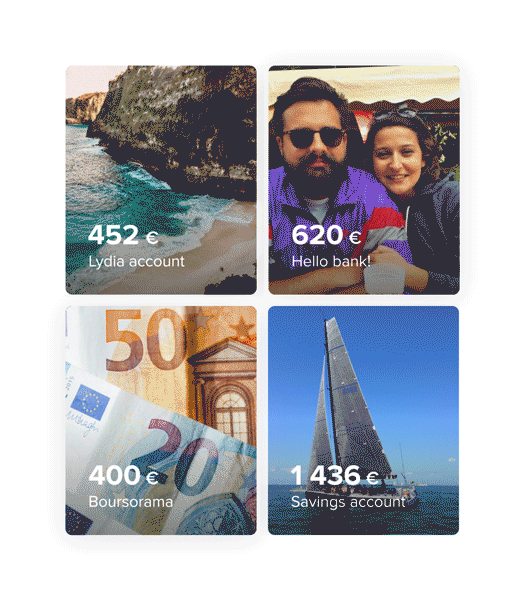 Compatible banks 😎
To check your accounts' balances
The list of available banks can be found in the first tab of the app.
To make a bank transfer using linked accounts
Not all banks on the list allow transfers from Lydia yet.
In this case, an error message will inform you when initiating a transfer.
Linking a bank account to Lydia 🔗
Log-in details
Linking a bank account to your Lydia account can be done in a few clicks. You just need to:
Go to the "My money" tab (the Accounts tab)
Hit the tile that indicates "Add my bank" or tap the + sign in the top-right corner of the screen
Type in the name of your bank and choose it from the list displayed
Enter the log-in details you usually type to log into your bank's interface
An additional security step may be required - e.g. a text with a code for you to enter.
The linking process may take several minutes. Depending on your bank, every data may not be available (like your beneficiaries' details).
Lost connection with your bank accounts 👷
Your bank accounts' data is updated several times per day. However, an exclamation mark may appear on your account's display. It means the connection with your bank has been lost.
To make it work again, you simply need to:
Tap on the exclamation mark or tap on "Update my log-in details" in the account's detailed view
Enter the new log-in details provided by your bank
Once your new log-in details have been entered, you will once again be able to see your accounts within Lydia.
Deleting a linked bank account 🗑️
From the "My money" tab of the app, you simply need to click on "Delete this account" from the detailed view of the account to delete Lydia's connection to it
About our partner ⚙️
Lydia uses Budget Insight's technology to provide a secure connection with your bank. Every data is encrypted.
Budget Insight has:
Over 350 financial establishments supported in France and internationally
A connection that is secure, simple, and takes only 30 seconds to set up
A global, harmonised overview of all your accounts in real-time
Save time by making bank transfers directly within Lydia
You can find more information on their website.
---