With "Recurring Payments", you receive an automatic and regular reminder to send money or to ask someone for money…
You can create a Recurring Payment in the Lydia app by clicking on this link on your mobile.
Why use Recurring Payments?
Recurring Payments automate tedious regular tasks such as:
Pay your rent every month
Ask a friend to pay you back for a shared subscription (Netflix, Spotify) every month
Make a transfer between your Lydia accounts or between your bank accounts every week
Put some money aside on a Lydia account every day
Thanks to Recurring Payments, Lydia reminds you to send money to someone or to ask a contact for money so you can take your mind off it.
How do I set up a Recurring Payment? ⏲️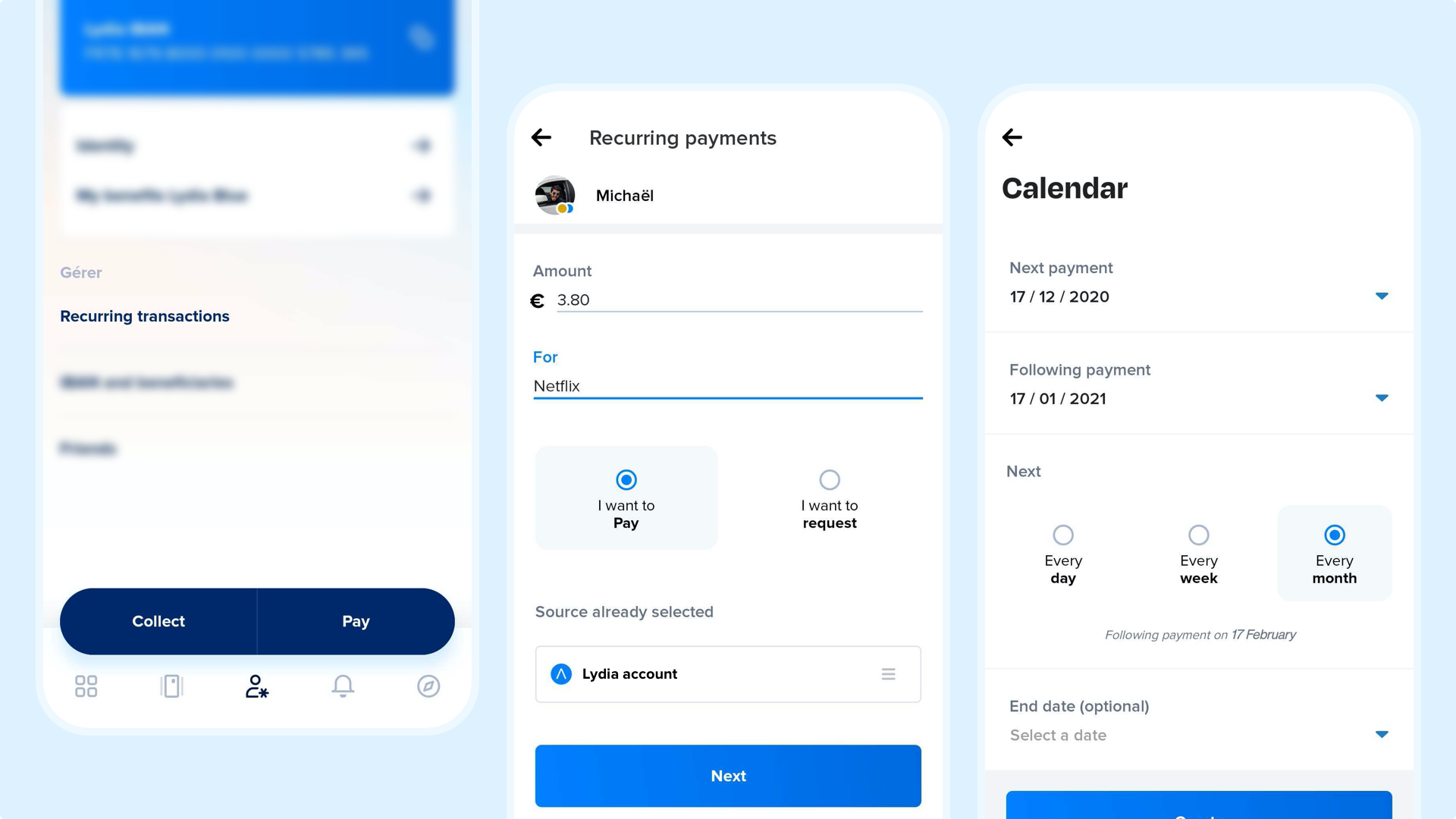 Setting up a Recurring Payment is quick and easy. All you need to do is:
Open the last tab of the Lydia app
Scroll down the features list and click on "Recurring Payments"
Click the "+" button
Select "Create a transaction"
Select the contact you want to send or request money to
Choose the amount and title ("Netflix subscription", "Food shopping", "Tuesday coffee") of your recurring payment
Regular payments
For each date, at 09:00 CET, Lydia will generate a payment request that you can approve with one single tap. You can either confirm or amend the means of payment that will be charged for the payment.
Money is never sent automatically. You must approve Lydia's request to authorise the payment.
How do Recurring Payments work? ⚙️
To send money regularly
Lydia will generate a request at 7am daily, weekly or monthly (depending on the frequency you chose) that will need your approval. You will be asked to confirm or change the payment method you wish to use to send the money.
Payments never go through automatically: You must first agree to send money.
To ask for money regularly
Lydia will send a daily, weekly or monthly (depending on the frequency you chose) payment request at 7am to the chosen contact and notify him/her
The request is sent automatically but the recipient must agree to pay.
Notifications and payment requests 🔔
When you ask someone for money through a Recurring Payment, your contact receives a push notification on his/her mobile and/or an email with each new automatic request.
You contact will be able to check out the payment request in the 2nd tab of their Lydia app. Once your contact receives the payment request, he/she has 7 days to accept it.
How long can Recurring Payments last? ⏳
In the Recurring Payments menu, you can:
Suspend a Recurring Payment by clicking "Suspend" at the bottom of the screen
Delete a Recurring Payment by clicking "Delete" at the bottom of the screen
If you have set up an end date, the Recurring Payments will automatically pause on that date.
How can I organise my Recurring Payments? 📁
You can create folders to organise your payment requests or notices. Check out a couple of examples of folders below:
"Subscriptions" for all shared subscriptions that you pay for others (Netflix, Spotify, BeIn Sport, etc.);
"Flatshare" for all expenses shared between you and your housemates (Food shopping, electricity bills, etc.);
Etc.
To create a folder, go to the Recurring Payments menu:
Click "+" at the bottom right-hand corner;
Click "Create a folder";
Enter the name of the file and confirm.
Each existing Recurring Payments can be moved to a folder. Just click on a Recurring Payment, scroll down to the bottom of the screen to tap "Add to a folder" and select the desired folder or create a new one.
---