When you receive money on your Lydia account, you can either choose to spend it right away or to transfer it to your bank account.
Transferring money to a bank account 💸
Option 1: With a simple drag and drop gesture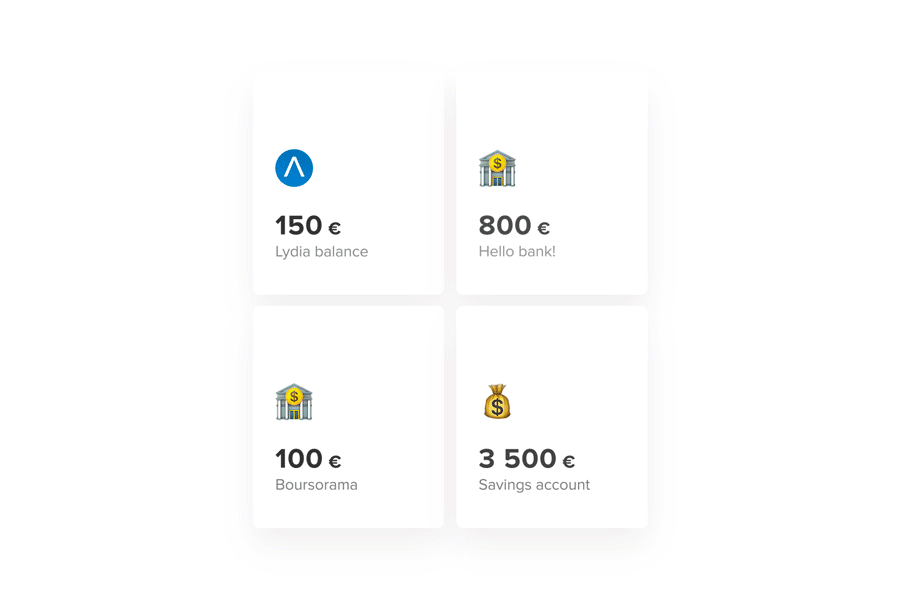 This is pretty simple, just:
Head to "My money" tab of the app (1st tab)
Click on "+" located on the top right of the screen and click on "Add my bank" to connect your bank account to the app, then type in your bank's name and log in details
From the "My money" tab of the app, put your finger on your Lydia balance and drag it to your bank's balance tile
Enter the amount you want to transfer and confirm the transfer
... "Et voilà" ! The money will be credited to your bank account within 3 business days.
If you're in a hurry, you can click on the button below from a mobile to access the "My money" tab:
Option 2: From your Lydia account's details
Otherwise, just follow these few simple steps:
Go to the "My money" tab (1st tab of the app)
Click on your Lydia balance to open the account details
Click on "Transfer" and select "To a bank account"
Enter the amount you want to transfer
Select your bank account and confirm the transfer.
Option 3: From your Transactions' History
You can transfer the money from each transaction individually from the "My money" tab (1st tab of the app). From there:
Click on a specific positive transaction
If your balance is sufficient - Click on « Transfer or use funds »
Select your bank account and confirm the transfer.
Waiting time
Usual bank processing times apply to all bank transfers. You should allow for 2 to 3 working days.
Please note: The user cannot use his/her Lydia account to make the first payment for the opening of an online bank account. Indeed, when initiating a bank transfer to an external account, the name of the sender is not the user's but the name of Société Financière du Porte-Monnaie Électronique Interbancaire, our banking partner.
Haven't received your transfer yet? 🤔
Here is a checklist to help you identify the issue you're facing:
Check that you have actually asked for the transfer
To do it, check your Transactions History and your emails to find it back.
Check that you selected the right bank account
You'll find the IBAN in the confirmation email sent by Lydia right after your request.
If you don't recognise this bank account, read this article.
Check the amount you are expecting to receive on your bank account:
The amount may be different from what you expected for various reasons:

Lydia aggregates all transfer requests in a given day. If you request to transfer €100, then a further €50 later that day, Lydia will make a single transfer of €150.
From your Transactions History, check if you spend part of the money you received on Lydia. If so, you'd have transferred less than what you received.
Important: incoming transfers can be sent by our partners "SFPMEI "(for a transfer in Euros) or "CurrencyCloud" (for a transfer in Pounds Sterling). You won't always see "Lydia" appear on your bank statement.
Rejected transfer ❌
If the receiving account is closed or cannot receive money anymore, the transfer may be rejected. This process may take several days.
Within 3 working days, Lydia will recredit your Lydia account with the money sent and notify you by email that the transfer has failed.
You should attempt the bank transfer again if you still want to, but this time with different bank details instead.
---