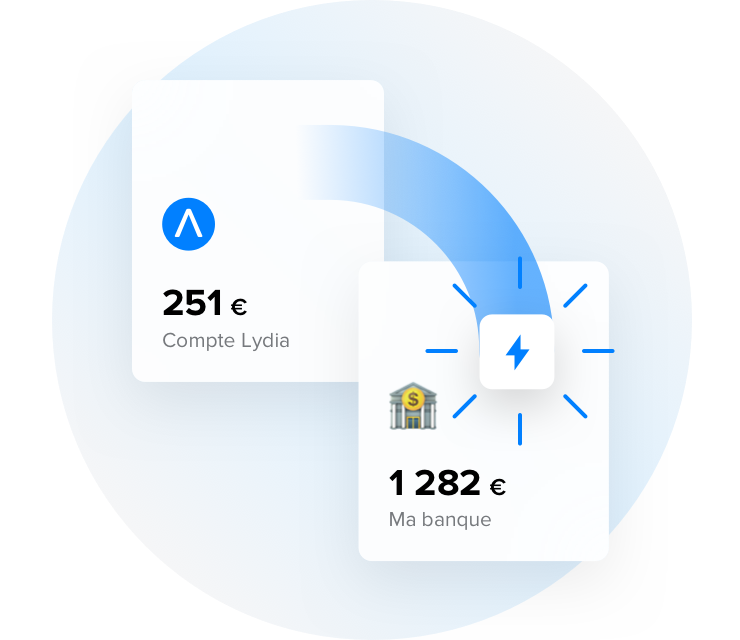 Lydia has chosen instantaneity as the standard for bank transfers: when possible, Lydia initiates your transfer using instant payment technology. And it's completely free for Lydia Blue and Lydia Black subscribers.
When Lydia free users wish to make an instant transfer to an account IBAN, they have the choice of: 
paying a €1 fee 
upgrading to a Lydia Blue or Lydia Black paid subscription to benefit from free instant transfers
opting for a standard transfer which will be done within 3 working days
An extra 1.5% charge may apply if they exceed their subscription limits.
Under what conditions can a transfer sent from a Lydia account be instantaneous?
The user doesn't have to follow a specific route in-app, nor select an option to make an instant transfer. They are instantaneous by default for all users with a verified account status (get your account verified by clicking here from a mobile phone).
In certain cases or under certain conditions, bank transfers are necessarily initiated in a standard delay (the transfer will be credited within 2 to 3 working days):
If the receiving bank isn't compatible with instant payment technology. To find out more, the user can check the website of the bank in question or contact the bank directly;
If the type of receiving account isn't compatible with instant payment technology. This may particularly be the case for accounts which aren't current accounts, such as savings accounts for example;
If the interbank flow processing platform for instant payments, on which the instant payment technology is based, is temporarily out of service or undergoing maintenance;
If the risk profile of the Lydia user who's initiating the transfer is deemed too high by our services in charge of transaction security.
If the free Lydia user does not wish to be charged a €1 fee or switch to a Lydia Blue or Lydia Black subscription at the time of the instant transfer request.
How do I get confirmation of the instant processing of a transfer?
To find out if a transfer was instantaneous, and if the user has chosen to receive our transactional emails for the amount in question, simply refer to the confirmation email sent by Lydia. The expected time-frame of the recipient account being credited is clearly specified, and therefore if the transfer is instantaneous or standard.
If the user has chosen to activate Lydia push notifications, Lydia duplicates the transfer confirmation email with the push notification as soon as it's instantaneous.
Lastly, and if the recipient account is the user's personal account, the user can see his up-to-date transaction history or his account balance on his online banking area or on his mobile app. Some banks also notify their customers by text message when they receive an instant transfer.
Certain banks do not continuously refresh their transaction history or account balance. An instant transfer - successfully credited - may not appear in the history or be counted until after a few minutes or after a page-refresh is forced by the user.
---