About Lydia shared accounts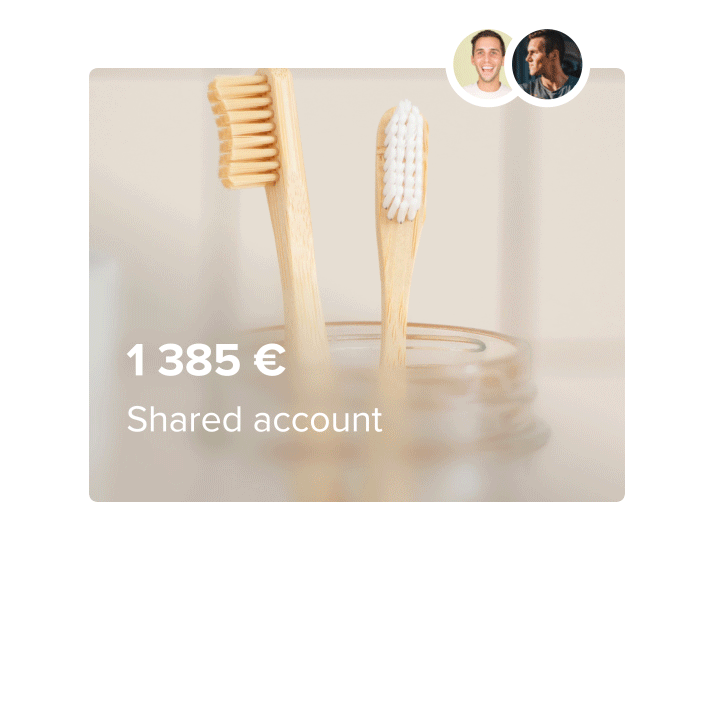 Lydia lets you create shared accounts to make and manage common expenses easily, from your mobile. Every participant can top it up from their mobile and spend the money anywhere using one of the many Lydia payment methods.
It takes a whole lot of 10 seconds to create a shared account.
All the things you can do with a shared account
For your daily life
The shared account is perfect for the daily life, for a couple for example: you and your significant other can top it up at the start of the month, then pay the bills and the groceries along the way using the shared account's money. It also works perfectly if you're living with roommates.
For week-ends and holidays 😎
What a convenient solution to be using for trips away with friends! A single account can now be used for all your common expenses (ticket booking, Airbnb, nights out, car rental, etc). No matter how many people you're travelling with. You won't have to reimburse 5 people anymore.
Creating a shared account 🤗
It only takes ten seconds to create a shared account. You just need to:
Go to the "My money" tab of the app (1st tab), click on "+" then select "Shared account"
Type a name for the account ("Couple", "Flatshare", "Holidays")
Invite the people you want to share the account with (if they don't appear in the list, type in their phone number or their email address — they will receive an invite)
Define the rights of every member (check out the description below to know more)
Optional — Customise your shared account (why not adding a pretty cover picture ?)
Topping up and spending the money 💸
NB: when paying online with a Shared account, you'll have to enter the Internet card holder's name into the merchant's online payment form. If you created the Internet card to debit the Shared account, you'll have to type-in your name.
👉 To experience the very best of Lydia shared accounts, upgrade to Lydia Blue or Lydia Black.
Managing participants' rights 💁‍♀️
When inviting people to your shared account, you can choose to give participants the following rights:
View the shared account's balance
Check out it Transactions' History
Spend the money stored in it
Manage participants: they will be able to add or delete participants
You will be able to modify those rights at any time.
Terms and Conditions
Only the shared account's owner can delete the account. He is also the only legal owner of the money that is stored in it.
---