Occasionally, Lydia's identity verification systems may reject valid, genuine documents. In most cases, Lydia's systems have not been able to verify the authenticity of the document. In order for the video ID to be validated, the user must ensure the following:
Hold the document in your hand
The document should be held in the hand, not placed on a surface. If in doubt about how to hold the ID document, refer to the animation below.
Do not hide any identity information
All identifying information on the document must be legible. Often fingers or hands obscure the ID photo, personal information, or the series of characters at the bottom of the document.
Avoid reflections and favour natural light
Ideally, you should place yourself near a window during the day. In any case, it is important to avoid reflections that could prevent the reading of the document.
When asked,tilt the document up and down
Tilt your document back and forth in a "pendulum" motion, as shown in the illustration below. The movement should make the holograms of the document appear.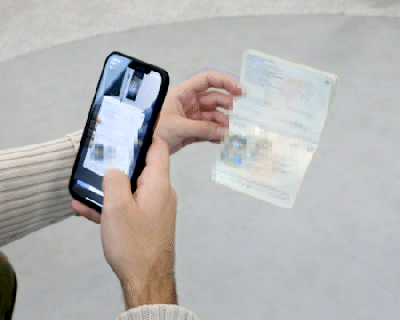 Only European identity documents are accepted to verify your identity on Lydia.
For more information on accepted documents,
click here
.
In the event that the user has followed these recommendations but is still unable to verify his/her identity, it is possible to obtain assistance from the Lydia team by contacting them at the following email address: support@lydia-app.com.
---